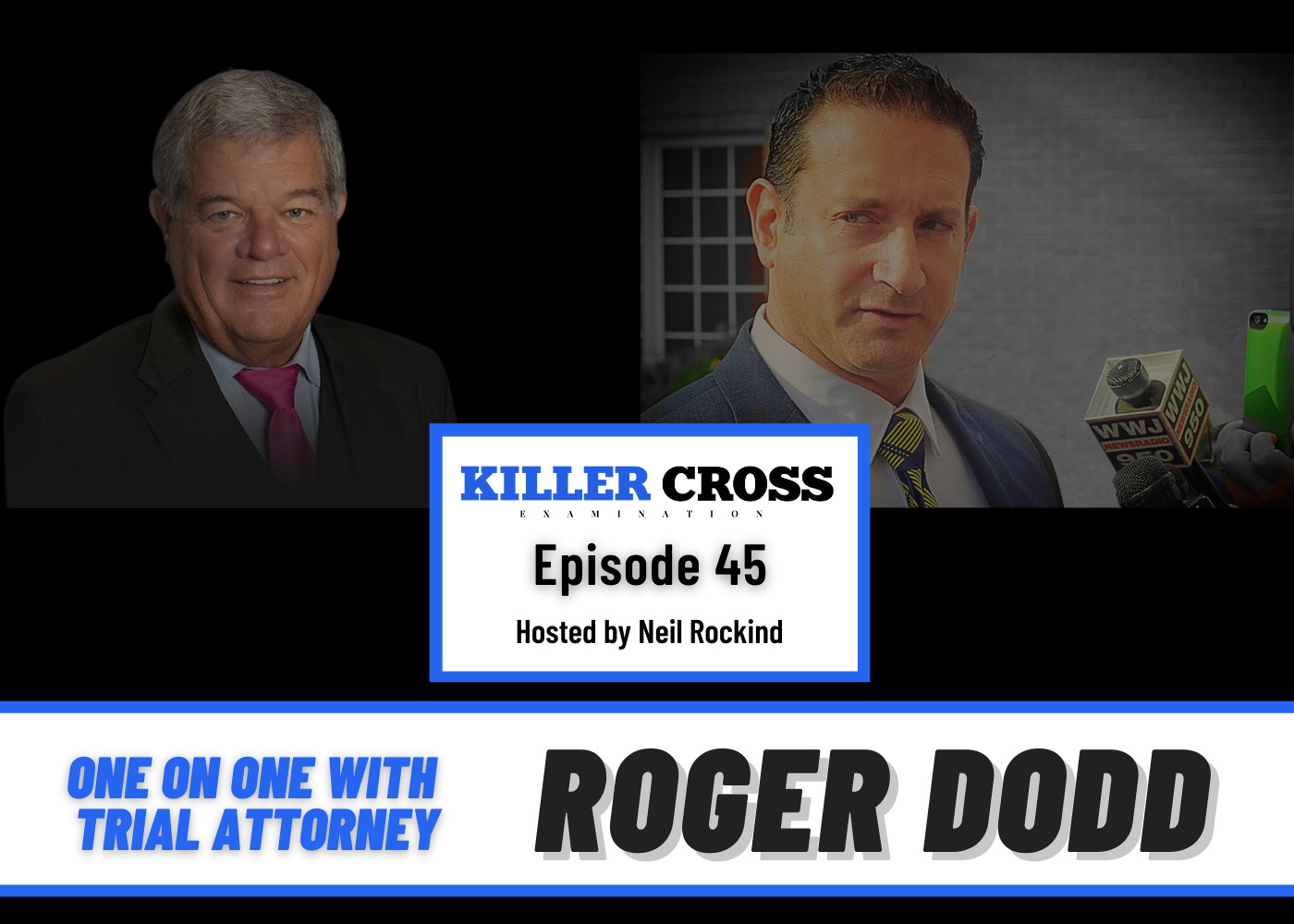 Roger Dodd is here.  Roger Dodd is here.  Roger Dodd is here!!!   
Roger Dodd literally wrote the book on cross examination.  There are three (3) textbooks/books on Cross Examination that every serious trial lawyer has read or has in their library: 1) Francis Wellman's "The Art of Cross Examination", 2) The 10 Commandments of Cross Examination by Irving Younger and 3) Cross Examination: Science and Techniques by Larry Pozner and Roger Dodd.  The last, in its 3rd edition, is considered the modern-day "bible", the definitive "how to" cross examination book in the legal field.  So accomplished and acknowledged is Roger Dodd as an instructor on cross examination that he was asked to review and update the 1st book, the Art of Cross Examination, for the 21st Century.  I go one on one with Roger Dodd, instructor, trial lawyer, cross examination icon, on this episode of Killer Cross Examination.
Young students and lawyers fork over hundreds of dollars to read Roger Dodd's books and to listen to his DVD's on mastering cross examination.  A more select few sign up for Dodd's Trial Lawyer's Clinic on Cross Examination.  Dodd is that accomplished a trial lawyer and cross examiner.  His students include some of the greatest trial lawyers in the country.  Dodd has tried, been an expert witness or taught in all 50 states and the District of Columbia, Russia, St. Thomas, Puerto Rico, Canada, Mexico and various Caribbean locations.  When I got the chance to have Dodd critique a cross examination of mine, one that was on television during a televised trial, I jumped at the chance.  Why?  Because he is Roger Dodd.  To me, it's like having Einstein review a math formula or Tiger Woods/Jack Nicklaus review a golfer's golf swing.  
In this episode, Dodd tells me about his career, how he got started, how he learned to cross examine and where he came up with his concepts.  He shares tips on cross examination, challenging witnesses, turning opposition witnesses into friendly and helpful witnesses and how to deal with difficult judges and difficult witnesses.  If you like trials, watch Court TV, watch Dateline, watch Courtroom Live Network, or watch reruns of old trials, this episode is for you.
Please be aware we are relying on impressions, recollections, memories and interpretations.