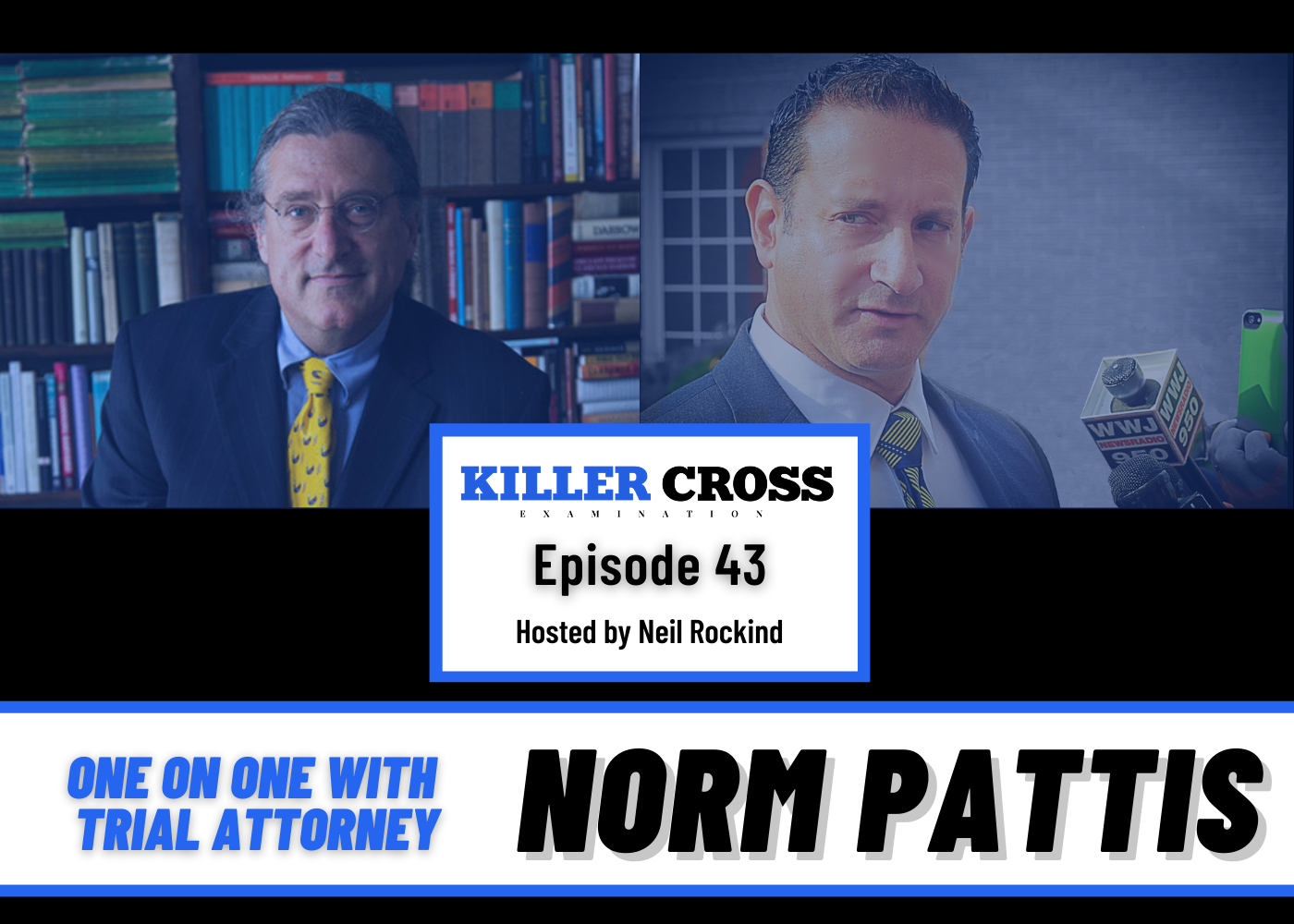 Connecticut Magazine called Norm Pattis, the Connecticut civil rights and criminal defense lawyer, the Defender of the Despised. It is a mantle he wears proudly.  If you read about a criminal case in Connecticut, there is a good chance that Pattis represents the client, passed on the case or is in talks to take it over.  His clients include Alex Jones, the controversial conservative firebrand and host of Infowars.  Pattis is my guest on this week's episode of Killer Cross Examination.
I'm still reeling from the amount of information that Pattis shared with me during this episode.  Pattis, who has won millions of dollars in civil rights verdicts including in some of the most improbable of cases, e.g., Kevin King (just look the case up – Kevin King Prison Abuse) and obtained acquittals in too many cases to count.  Recently, he obtained an acquittal in the high-profile case of Saifullah Khan, the college student accused of committing a sexual assault upon a fellow student.  Pattis' shares his background growing up in Detroit and how his hard knocks youth gave him the chip on his shoulder that motivates him to this day. Pattis shared trial tips and strategies including the "Acid Rain" cross examination: drop after drop after drop of unrelenting acid rain that eventually, slowly, methodically kills the witness.  Pattis described his jury selection style as looking for "bounce", who can he sit down and talk to at a bar and who "gives you something back."  Pattis discusses how as a lawyer he deals with "inconvenient truths", those facts that hurt his case but that he needs to own.  He shares his "zipper method" style of cross examination and cross examination preparation, how he insists on learning the science to combat expert witnesses, using voir dire of the expert to get into and under the skin of the expert before the jury sees the cross examination and how he has physically gotten on the table and on the floor to make his points during cross and trial.  When he senses blood in the water, as he puts it, he goes for it.   Pattis actually uses the courtroom as theater.
Let me tell you something — if you are looking for a trial tips, closing tips, analogies, metaphors, etc., you'll have to watch this interview with Pattis multiple times.
Pattis has written 3 books, is a nascent stand-up comedian, writes a blog and hosts his own podcast, Law and Legitimacy.
Please be aware we are relying on impressions, recollections, memories and interpretations.